Sewer Line Repair in St. Louis
Professional Sewer Line Services in St. Louis County
Sewer lines are an essential part of your plumbing system as they are responsible for draining waste and contaminated water away from your home. Running from your home to either a septic tank or a municipal sewer, these drainage systems are indispensable for keeping you and your family safe from polluted water. However, even the toughest pipes tend to need repairs from time to time, and as our plumbing infrastructure increasingly ages here in St. Louis, sewer lines may even need to be replaced as they simply wear out from all their accumulated years of service. Chemical cleaners and byproducts can cause corrosion within sewer lines, while collected inorganic matter, from sanitary products to tangled hair, plastic, and paper, can all create massive blockages.
If you have noticed multiple drain backups, an unusually lush and soggy lawn, and/or foul odors on your property, your sewer line needs immediate attention. Do not hesitate to reach out to Kirkwood Plumbing to request an estimate for sewer line repair in St. Louis.
A broken sewer line is a plumbing emergency. Contact us now at (314) 207-3916 to request fast service from our plumbing team.
What Causes Problems in Your Sewer Line?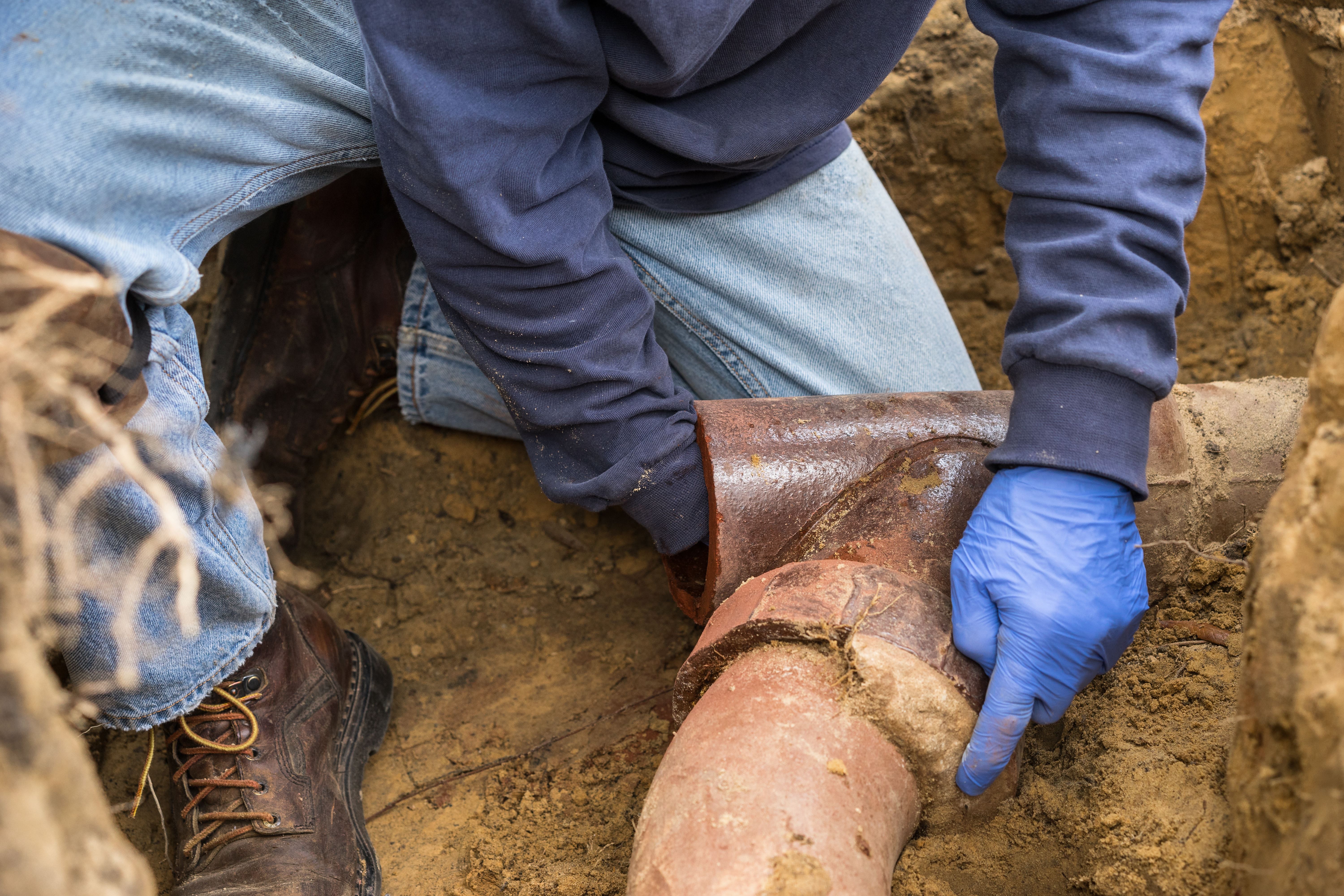 There can be a whole host of reasons that your sewer line may experience issues. For example, one common cause of leaky pipes is that water is seeping through a seal that has come loose or has broken free from its casing. In other cases, there might be a hole in the pipe itself, which often occurs if the drains have deteriorated due to old age or have even rusted from harsh chemical compounds. There may also be a clog created by a blockage within the pipe, or tree roots may have broken through the walls of the pipe in search of water.
No matter what the situation is, our knowledgeable plumbers can identify the problem and then determine whether a minor repair or a total replacement is the more appropriate solution.
Signs You May Need Sewer Line Replacement
The best method for preventing a total sewer disaster is by taking proactive steps to contact our licensed St. Louis sewer line replacement experts for help. However, the question is how can you know that your sewer line is in immediate danger if it has not completely burst yet?
To help you determine whether your sewer line may be in trouble, watch for these warning signals, including:
Unpleasant, sulfuric odors or smells of rotten sewage in and around your home.
Visible signs of septic waste leaking from your pipes or fixtures, potentially caused by a malfunctioning septic tank or broken main line.
Suspiciously green spots around your lawn and yard, showing there is underwater leakage.
What Are the Consequences For Ignoring Sewer Line Problems?
Ignoring sewer line issues can lead to several potential consequences. First and foremost, it can result in worsening damage to your sewer system, leading to more extensive and costly repairs in the future. Sewer line problems, such as clogs or leaks, can cause sewage backups, which can be messy, unsanitary, and pose health risks to you and your family.
Additionally, untreated sewer issues can lead to damage to your property, including foundation problems, landscape damage, or even sinkholes. It's essential to address sewer line problems promptly to avoid these complications and ensure the proper functioning of your sewer system.
Total Support for Sewer Line Emergencies
To prevent any disasters involving burst sewer lines, immediately get in touch with our experienced, licensed professionals at Kirkwood Plumbing. We are available 24/7 for any emergencies that might strike at the last minute. There is no need to fear when you can receive superior sewer line repair in St. Louis, no matter the time of day or night.
Call us at (314) 207-3916 today or contact us online to get help from our St. Louis sewer line repair experts.
Make Kirkwood Your First Plumbing Choice
Workmanship Parts Guaranteed

No Overtime Charges

License and Insured

Exceptional Customer Service

Upfront Pricing

Locally Owned & Operated
Stay Informed
Read Our Blog For Tips & Tricks